AudioQuest Dragonfly DACs
Beautiful music from computers and mobile devices.
AudioQuest Dragonfly Cobalt
DragonFly Cobalt, AudioQuest's new flagship DAC, takes what music lovers around the world have come to expect from the multi-award-winning DragonFly family—naturally beautiful, seductive sound—and strips away fuzz and fog that weren't even noticeable until Cobalt removed them.
—
How is this possible? Like the critically acclaimed DragonFly Red, Cobalt has the robust 2.1-volt output to drive almost any headphone, uses a bit-perfect digital volume control for outstanding signal-to-noise ratio, enables seamless compatibility with Apple and Android devices, and is an exceptionally competent and affordable MQA Renderer.
COBALT'S PRECEDENT-SETTING PERFORMANCE IS MADE POSSIBLE BY MULTIPLE SIGNIFICANT UPGRADES:
New, more advanced ESS ES9038Q2M DAC chip with a minimum-phase slow roll-off filter for more natural sound.
Microchip's superb PIC32MX274 microprocessor draws less current and increases processing speed by 33%.
Improved power-supply filtering that specifically increases immunity to WiFi, Bluetooth, and cellular noise.
Includes a form-fitting DragonTail female USB-A to male USB-C Adaptor.
All DragonTails use AQ's Carbon-level USB cable.
AUDIOQUEST, GORDON RANKIN: A BEAUTIFUL PARTNERSHIP
Like all previous DragonFly models, Cobalt uses Gordon Rankin's precedent-setting StreamLength® asynchronous-transfer USB code. Further, in Gordon's monoClock® technology, a single ultra-low-jitter clock generated from the ESS ES9038Q2M DAC chip runs the ESS chip functions as well as all microcontroller functions. This superior clock enables DragonFly Cobalt to provide greater resolution and clarity than DACs with multiple clocks.
WHY THE "SLOW ROLL?"
Cobalt employs ESS's new flagship ES9038Q2M DAC chip. While the chips used in DragonFlys Black and Red are unbeatable for the price, the minimum-phase slow roll-off filter in the 9038 results in naturally expressive sound that is always emotionally engaging and never fatiguing—a beautiful combination of warmth and detail that we find equally exciting and soothing.
KILLING THE NOISE
In Cobalt, AudioQuest has taken what they've learned from their most recent research and development in noise dissipation to employ power-supply filtering specifically designed to dramatically reduce the increasingly prevalent noise from WiFi, Bluetooth, and cellular signals. Successfully combating this noise is absolutely crucial to the preservation of the lowest-level musical details, particularly when it comes to high-res audio—and especially when applied to a portable-audio device such as DragonFly.
BIT-PERFECT VOLUME CONTROL AND 2.1-VOLT OUTPUT
Cobalt features the same ESS Sabre 9601 headphone amp and bit-perfect volume control that give DragonFly Red its unique combination of power and grip over the music. This solution ensures maximum fidelity, thrilling dynamic contrast, and excellent signal-to-noise ratio. The 2.1-volt output makes Cobalt and Red compatible with a wide range of headphones, including power-hungry, low-efficiency models.
FIRMWARE-UPGRADEABLE
DragonFlys Black, Red, and Cobalt, are firmware upgradeable via a free Desktop Device Manager. In today's fast-paced digital world, longevity in a hi-fi component is increasingly rare—at any price. AudioQuest believes that today's digital devices should evolve as technology itself evolves, thereby delivering musical pleasure for many years to come. AQ's Desktop Device Manager will also allow you to identify your DragonFly's serial number and software version to ensure that the device is up-to-date.
Download the latest Device Manager available for your operating system.
While the original DragonFly defined the market for micro-DACs, its USB power draw made it compatible with computers only. Music lovers have craved a more portable version—one that could be reliably used with Apple and Android smartphones and tablets. We're delighted to present two new options that do just that: DragonFly Black and DragonFly Red. Convenience and performance are no longer mutually exclusive. With DragonFly Black and Red, any computer, laptop, tablet, or smartphone can be used as a true high-fidelity music player, allowing music lovers to enjoy beautiful sound wherever they go, whenever they please.
Audioquest, Gordon Rankin, and Microchip: A Beautiful Partnership
AudioQuest and DragonFly designer Gordon Rankin worked alongside Microchip Technology to develop a new high-performance, full-speed USB microcontroller solution that delivers improved signal-to-noise ratio and significantly lower power consumption. Drawing 77% less current than the previous microcontroller, the new Microchip PIC32MX microcontroller enables true compatibility with Apple and Android smartphones and tablets. Further, one simply cannot overstate the significance of Gordon Rankin's contributions to AudioQuest. The new DragonFly models embody many of Gordon's most innovative, creative, and elegant digital-audio solutions to date.

Improved 32-bit Digital Performance
For greater overall performance, the new DragonFly models also incorporate improved 32-bit ESS Sabre DAC chips—the 9010 in Black and the higher-performance 9016 in Red—both of which employ minimum-phase filtering for naturally detailed, more authentic sound.
While DragonFly Black uses the same high-quality headphone amp and analog volume control found in DragonFly v1.2, DragonFly Red includes the latest ESS headphone amp and a bit-perfect digital volume control that resides on the 9016 DAC chip itself—a sophisticated implementation that ensures maximum fidelity, dynamic contrast, and signal-to-noise ratio.
DragonFly Black will output 1.2 volts—enough power to successfully drive all preamplifier input circuits and a wide range of today's efficient headphones. Meanwhile, with its higher 2.1-volt output, DragonFly Red will be compatible with a wider range of headphones, including power-hungry, low-efficiency models.
While the DAC chips AudioQuest has selected are remarkably powerful and sophisticated, they've intentionally limited DragonFly Black's and DragonFly Red's processing capabilities to 24-bit/96kHz resolution. This makes using the DragonFlys as simple as it's always been: they're fully compatible with PCs without having to download and install new drivers. Most importantly, DragonFly is designed to honor the music you already own and love. Whether you're listening to Spotify, YouTube, Tidal, Qobuz, ripped CDs, or state-of-the-art high-resolution files, DragonFly will deliver a more emotionally compelling and enjoyable experience.

Free Desktop Application for Software Upgradability
(FOR DRAGONFLY BLACK AND RED ONLY)
—
In addition, the new DragonFlys are software upgradeable through a complimentary Windows or OS desktop application. As new developments arise in music player applications, streaming protocols, or other associated software, DragonFly users can incorporate those updates to their existing devices.

Stream Tidal Masters Everywhere
(FOR DRAGONFLY BLACK AND RED ONLY)
—
Tidal Masters (MQA) playback is now available on iPhones and Android smartphones. MQA's technology folds high-resolution files into smaller files that can be streamed on the go. The MQA decoder in the Tidal app recovers all the direct music-related information. As an MQA Renderer, DragonFly completes the unfolding process, allowing listeners to enjoy a wider selection of high-res music. For more information, click here.

Only the Beginning
Introduced to the media at the 2016 Consumer Electronics Show, DragonFly Black and DragonFly Red were named "Stars of CES" by What Hi-Fi? Magazine. But this is only the beginning. AudioQuest looks forward to building stronger, more meaningful connections between music enthusiasts and the artists, albums, songs, and videos they love. The company's hope is that with DragonFly Black, DragonFly Red, and future AudioQuest digital products, more people than ever before can enjoy beautiful music—wherever they go, whenever they please.
AudioQuest DragonFly Black review
AudioQuest has transformed the DragonFly into its best DAC to date…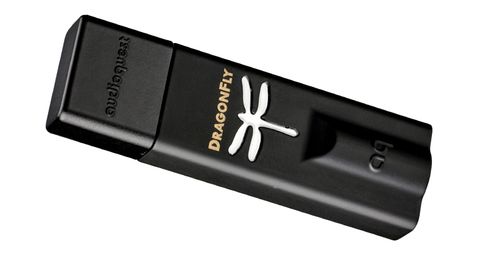 OUR VERDICT
With improved sound and a tempting price tag, this is the best DragonFly yet
FOR
Clear, dynamic sound
Decent detail
Compatible with smartphones and tablets
Conveniently compact
AGAINST
No DSD support
96kHz playback limit
Although caterpillars and butterflies are typically used to illustrate the process of metamorphosis, the evolution of AudioQuest's DragonFly is just as impressive a tale of transformation.
Four years ago, the original DragonFly – a DAC and headphone amplifier crammed into the tiny proportions of a USB memory stick – elicited a mixed response of pure delight and 'whatever next?' It was conveniently compact, ingeniously simple to use and an undisputed sonic upgrade for our laptops. For this groundbreaking effort, it was named our Product of the Year in 2012.
Two years later, its successor the v1.2 (now discontinued), took the gong for its improved sound and since then portable DACs have sprung up faster than daisies in spring.
But AudioQuest has figured out how to keep its edge in a cutthroat market, namely by improving compatibility and sound quality, and by dropping the price from £130 to £90.
Build
The AudioQuest DragonFly Black (referred to on the back of the device as v1.5) is a more portable version of its predecessors – not in terms of its dimensions, which are exactly the same as its previous ones, but in compatibility.
AudioQuest claims the DAC's new Microchip microcontroller draws 77 per cent less current than the Texas Instruments one in the v1.2 – this makes a more appealing case to use it with Apple and Android smartphones and tablets. The older model was particularly power hungry and would drain your battery much quicker.
So, if you've been craving better quality music on the go, the v1.5 has you covered.
You'll need to purchase a separate adaptor for portable devices, though, which could explain the DragonFly's more humble price tag. You'll need an On-the-Go cable with a micro USB connector for Android devices (AudioQuest does its own version called DragonTail), while Apple's camera adapter (£25) should allow the DragonFly to play ball with iPhones.
It's worth remembering, though, that not all Android devices allow audio out of their USB connection, so it's definitely worth checking compatibility beforehand.
As accessories go, AudioQuest also sells a normal USB extender cable (also, confusingly called DragonTail) in case the the DAC physically blocks any neighbouring USB ports on your laptop.
There's also an improved 32-bit ESS Sabre DAC chip too, and a desktop application through which the DragonFly can receive future software updates.
Features
The rest of the v1.2's genetic make-up is retained: the headphone amp and analogue volume control, and the LEDs that light up in different colours according to file size playback – green for 44.1kHz files, blue for 48kHz, amber for 88.2kHz and magenta for 96kHz.
Sadly that's where it ends, as playback is limited to 96kHz, although it can play higher file sizes (these are first downsampled by your computer). DSD support remains another one for the wish list.
A plastic cap slots over the USB end to keep the insides free from the crumbs at the bottom of your bag, and a cute leatherette pouch protects the zinc alloy casing from coins or house keys.
The casing's finish is still a stroke-able soft matte, but AudioQuest has done some colour swapping to distinguish the v1.5 from its predecessor - the DragonFly lettering is now gold instead of white.
Sound
As we stick both new and old into our MacBook Air, plug in our AKG Y50s (£50) and load up our hi-res music library, it's clear their sonic differences are just as pronounced.
Though clearly cut from the same cloth – the v1.2's strict balance, rhythmic intelligence and joie de vivre reveals itself in its successor – the Black makes ground on the legacy sound with more insight and dynamic impetus.
The new DragonFly Black has a clearer, tighter presentation that makes the v1.2's seem a little shy in comparison. Taking flight with R.E.M's Pilgrimage, the AudioQuest delivers plenty of power with the thumping drums, yet is quick enough on its feet to keep them pacing along with the agility intended.
It spreads its wings to deliver the space and openness needed to keep the elbows of the reverberating pianos, tuneful guitar lines and dainty chimes firmly tucked in.
Stipe's longing inflections are bold, solid and nicely layered against the echoic backing vocals too. There's attack to the flamboyant melody, through which guitar chords thrust with more intensity than through the v1.2.
In The Last Shadow Puppets' Bad Habits, strings soar with dynamic finesse just as impressively as when they lurch with exuberance, and the depth to piano keys and insight into the curt, spiky vocals carries the track's perilous mood to a tee.
We stream Band of Horses' In A Drawer from Spotify and ambient electrics spread evenly about the soundstage, which despite the file's lower resolution is still ample.
Elsewhere, electric guitars twang with texture, the chorus's allied vocal harmonies are distinct, and it keeps a lid on the treble as cymbals take a battering.
Verdict
The original DragonFly was a groundbreaking product, which rightly won accolades four years ago. The DragonFly Black continues this commitment to better sound quality on a budget, but in an even more impressive package.
Like the caterpillar transforming into a butterfly, AudioQuest's DragonFly line has undergone a similarly remarkable metamorphosis – the outwards appearances may be similar, but this is easily the best DragonFly yet.
AudioQuest DragonFly Red review
What Hi-Fi? Awards 2018 winner. This dinky portable DAC is worth every penny
Tested at £170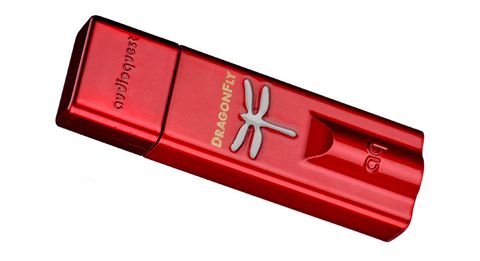 OUR VERDICT
A near-flawless option for anyone looking to give their computer music a hi-fi boost
FOR
Sophisticated, solid and subtle sound
As convenient as ever
Smartphone compatible
AGAINST
Red finish seems easily chipped
When the original DragonFly flew into our testing rooms back in 2012, it was a breath of fresh air. A DAC and headphone amp disguised as a USB stick – and with great sound to boot? It was some serious innovation, and became the de facto quick and easy way to give a laptop a sonic upgrade, especially after the refinements and price drop of the v1.2 model.
Here in 2016, however, the landscape is markedly different – and rising above the DACtastic tide is far harder.
AudioQuest's approach? A two-pronged assault. On the one side there's the DragonFly Black, an upgrade on the outgoing v1.2 that costs just £90. On the other side is our test subject today, the DragonFly Red.
Features
AudioQuest has set itself quite a challenge by giving the Red a £170 price tag to justify, and on paper the case doesn't look particularly strong. One criticism that can be levelled at the DragonFly range is that its support for high-resolution music tops out at 24-bit/96kHz.
The Black retains that limitation – but then it is exceptionally affordable. The problem is that the twice-as-pricey Red is similarly restricted.
AudioQuest points to a number of upgrades for the Red over the Black, though: a more advanced DAC and headphone amp for starters, plus a "bit-perfect digital volume control contained on the DAC chip itself" that's apparently a big improvement on the analogue volume control in the Black.
A higher voltage output (2.1v compared to the Black's 1.2v) makes it more suitable for driving demanding headphones, too.
Hi-res performance
None of that sounds particularly Earth-shattering, but it does bring with it some rather good news: the DragonFly Red sounds better than the Black. At the very least £80 better.
The Black is already a big improvement on simply plugging your headphones into your laptop's headphone socket, with timing, attack and detail getting a really huge boost. But the Red is a far more sophisticated listen.
The first thing you notice when going from one to the other is the Red's extra sonic weight. This is partly in the form of overall bass extension, but what's more impressive is the extra body given to each and every note.
There's a three-dimensionality, solidity and texture to every sound that makes the Black sound a little two-dimensional by comparison (even though it's undeniably accomplished in its own right and price-point).
As well as being fuller-bodied, each of these notes also contains a good deal more detail, and that, combined with excellent low-level dynamics, means everything has a more natural, subtle and expressive sound.
Then there's the way the Red organises the presentation. Feed both DACs the 24-bit version of Radiohead's Burn The Witch, and while the Black allows the fabulous organised chaos to become a bit of a muddle as the track reaches its crescendo, the Red maintains full control, allowing you to pick out and admire every thread of the gloriously complicated arrangement.
The whole track builds and builds, becoming ever more frantic and layered – and, when it suddenly ends, you feel exhausted the way you do when you've just experienced something genuinely dramatic.
Listening to the same track through the Black doesn't leave you with the same feeling.
Low-res performance
If you want to take things back to basics and are wondering whether a DAC such as this will make a difference to your daily dose of Spotify, allow us to confirm that it will. Even these comparatively low-res streams get a hefty improvement in the detail, definition and dynamic departments, and they're as strong a case for the Red over the Black as 24-bit stuff is.
With that in mind, the fact that both the Black and Red can also work with Android (check your handset can output audio over USB) and Apple smartphones (using Apple's camera adapter) could prove a big selling point for a good number of potential buyers.
Design
The one tiny blot on the DragonFly Red's otherwise immaculate test report is that we've found the glossy red finish (which we're rather partial to) seems rather easy to chip.
There's a pouch provided for safer transportation, but one suspects a Red that finds itself roughed up by life on the road will become blemished in no time at all.
Verdict
The qualities that made the previous version of the DragonFly so great remain just as compelling now.
It's a supremely compact and convenient device that can be taken anywhere for an immediate musical boost, and having the logo light up in different colours to tell you the file format running through it, still seems an elegant and instant method of delivering mind-easing information.
If you're unconcerned by that slightly flaky finish (and who buys a USB stick-styled DAC for its aesthetic properties?), you can consider the DragonFly Red a pretty perfect computer music upgrade.